Decals for BR Blue Era Coaches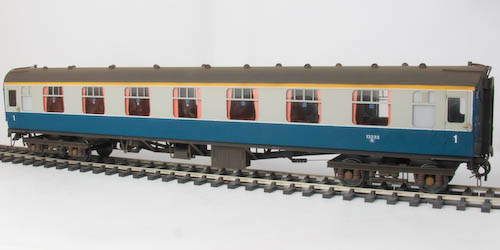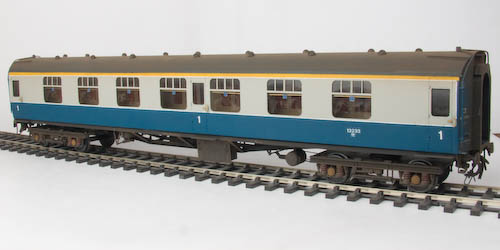 O Gauge Mk1 FK
These decals are for the standard British Rail livery elements used on coaches in the blue/grey era – from the mid 60s to the 80s and beyond. They also cover the early sectorisation period, from the mid-80s, where these retained the basic blue/grey livery.
These decals are intended for use on normal passenger-carrying stock, but should also be suitable for driving trailers and multiple units; a separate product is in preparation for non-passenger stock.
Each set provides decals for a single coach, customised for a specific running number and other details, and can contain:
Running numbers
Business sector markings
Special function markings
Class markings
Door markings
Depot allocation panels
End markings
Solebar markings
Overhead live wire warning labels
At least one spare of each different decal is also included. The overhead labels are also available as standard sheets, as are decals for window stickers..
The running numbers are implemented as complete, multi-digit decals, with the individual digits equally spaced; no more messing around getting the digits aligned and correctly spaced, and no ugly decal boundaries between adjacent digits. The end and solebar markings are also provided grouped into typical correct positions; it is then up to you whether you apply them in groups as provided, or apply them separately.
These decals can be supplied in a variety of scales, from 2mm to 16mm, come on white-backed waterslide decal paper with a background colour that has been carefully matched to the Railmatch 207 Rail Blue paint (the solebar markings have a black background matched to 205 Rail Black)
Configure Your Decals
To order these decals, please specify the information requested below to configure your set to your precise requirements, then click on "confirm specification". A second page will then appear showing the details you've entered along with the overall price and a button that will allow you to add the set to your order. You will also have the opportunity to return to this page to make changes.
Note: If you navigate away from this page before you have clicked on the "Confirm Specification" button, you will lose any information you have entered.
Basic Configuration