Decals for Ground Disc Signals in 4mm Scale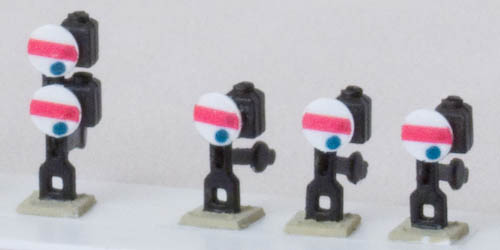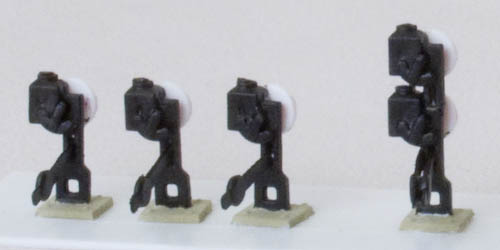 Ground disc signals from kit 465
(The double-disc signal was produced by combining parts for two single-disc signals)
These decals are designed to fit the discs of the Ratio 465 4mm scale ground signal kits; they may also fit other brands of signals, but this is not guaranteed. These decals are supplied on transparent backing paper.
Application Tips
Waterslide decals tend not to adhere very well to bare plastic, so some preparatory work is recommended: use a degreasing fluid (such as sold for preparation for painting) or paint the discs white first, and gloss is best for adhesion of the decals. Use of a proprietary decal fixing fluid (such as Humbrol's Decalfix) can also help the decals to settle around moulded detail, such as rivet/bolt heads; follow the manufacturer's instructions.
Accurately cutting around the circular outline of these decals is difficult, even as a light cut to just pierce the carrier film. However, these decals are supplied on transparent paper so that this is not necessary: lightly cut along the straight top of the red bar, carefully around each end of it and along the disc edge around the green spectacle, and return to the bottom left corner of the red bar in a straight cut.
Once the decals have been applied, and painting is complete, it is recommended that an overall coat of varnish is applied (matt is probably most appropriate), to seal and protect the decals and unify the appearance of the whole arm, optionally followed by a dab of gloss varnish on each spectacle lens to give them a "glassy" appearance.
Kit 465
These decals are desiged to fit Ratio kit 465, which includes components for 4 single-disc signals. The discs in this kit have solid spectacles as standard. Decals are provided for the front of the discs only; the rear of the discs are difficult to see once fixed to the signal body. Each sheet contains decals for 36 discs and occupies 1/3 of a sheet of A5 paper. One sheet thus supplies sufficient decals for 9 Ratio kits.