Decals for British Railways Loco Crests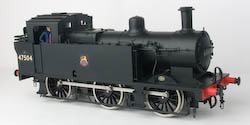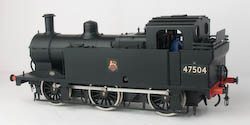 Gauge 1 (1:32) Jinty with early crests.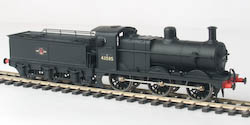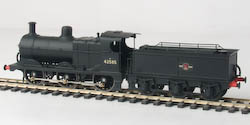 TT (3mm) 3F with later crests.
These decals are for the British Railways crests used on steam and early diesel and electric locos. The earlier type of crest ("Lion-on-wheel") is available in three different sizes and supplied in pairs with the lion facing left or right. The later type is available in two sizes and either with the lion facing left only, or in handed pairs. Each set contains sufficient decals for several locos in each of the two or three different sizes. The exact number of decals supplied depends on the scale concerned (see below).
The early crests were usually applied with the lion facing the front of the loco, whichever side was being looked at, hence the need for left- and right-facing versions. The same was also initially true of the later crests, but it was soon realised that heraldic approval had only been given to the left-facing version, so the right-facing version was dropped.
The sizes available are:
Early – 15, 9.5 and 5 scale inches high,
Later – 24 and 15 scale inches high.
The heights are measured across the outside diameter of the circle or wheel, as these dimensions are clearly defined and relatively easy to scale from prototype photos (given a key vertical dimension in the vicinity of the crest). These decals can be supplied in a variety of scales, from 2mm to 16mm, come on white-backed waterslide decal paper, and are available with a selection of background colours that have been carefully matched to the Railmatch range of paints:
Rail Black R205
BR Standard Loco Green R300
BR Sherwood Green
BR Steam Loco Blue
Black and loco green are available now, the other colours are in preparation but can still be ordered, they will just take a few days longer to produce while the colour-matching exercise is done.
Early Crests
Supplied with equal numbers of left- and right-facing crests, the number of pairs of each size in a set is:
| Size | 16mm | 1:22.5 | 10mm | 1:32 | 7mm | 4mm | 3mm | 2mm |
| --- | --- | --- | --- | --- | --- | --- | --- | --- |
| Large | 2 | 3 | 3 | 3 | 6 | 9 | 9 | 16 |
| Medium | 2 | 3 | 7 | 8 | 10 | 14 | 24 | 27 |
| Small | 3 | 4 | 8 | 10 | 18 | 20 | 25 | 30 |
Later Crests – Handed
Supplied with equal numbers of left- and right-facing crests, the number of pairs of each size in a set is:
| Size | 16mm | 1:22.5 | 10mm | 1:32 | 7mm | 4mm | 3mm | 2mm |
| --- | --- | --- | --- | --- | --- | --- | --- | --- |
| Large | 1 | 2 | 3 | 3 | 6 | 6 | 12 | 15 |
| Small | 3 | 3 | 4 | 4 | 9 | 12 | 15 | 28 |
Later Crests – Left Only
Supplied with left-facing crests only, the number of pairs of each size in a set is:
| Size | 16mm | 1:22.5 | 10mm | 1:32 | 7mm | 4mm | 3mm | 2mm |
| --- | --- | --- | --- | --- | --- | --- | --- | --- |
| Large | 1 | 2 | 3 | 3 | 6 | 6 | 12 | 15 |
| Small | 3 | 3 | 4 | 4 | 9 | 12 | 15 | 28 |
Decal Illustrations
The following pictures show sample decals at 16mm, 1:22.5, 10mm (top); 1:32, 7mm (middle); and 4, 3, and 2 mm (bottom) scales, all printed on plain paper with a loco green (top) or black (middle and bottom) background. Both left- and right-facing versions of the small early crests are shown, otherwise only left-facing versions are shown: